If you are a foreigner and looking for a tailoring shop, look no further than the professionals at Sarto.  Sarto offers a full range of services from bespoke and made-to-measure suit and dress making to alterations and repairs.  They even offer a bespoke shoe making service.
Best of all, there are several staff members who speak English fluently.
While living in midtown Manhattan, in New York City, I was often frustrated by the lack of tailors and alteration shops.  Too many times I had to resort to having alterations done at my local dry cleaners.  Although it was quick and convenient, the services were usually limited to the most basic alterations such as hemming trousers, taking in or letting out a waist, or shortening the sleeves on a jacket.  If you're as particular as I am about how your clothes fit, then the simple offerings of the dry cleaner or the local seamstress shop are not enough.
New York Magazine publishes a "Best of" annual guide to the best of the city's dining, shopping, services and entertainment.  It was there that I found a tailor based in Tribeca, recommended as the best place for alterations.  After a couple of visits, I got the feeling that this tailor wasn't so keen on my business.  When asked, his honest reply was, "I only take in alterations until I can make enough money with my bespoke business."  That was my last trip to that shop.
After moving to Tokyo on a modelling contract, I started doing a lot of work for the men's magazines.  Through the fashion editors and stylists, I was introduced to Sarto.  The level of skill and professionalism I found at Sarto soon turned me into a regular customer.  
No matter how big or small or how simple or complicated the repair or alteration required, the Sarto staff were happy to help, their skill always matched by their friendliness.  Since being introduced to Sarto, I have had countless alterations done, but have also had bespoke and made-to-measure suits, jackets and trousers made with absolutely beautiful results.
Working in the fashion industry, it's important for me to be well dressed.  Having clothes that fit properly is a big part of that.  Without the help of my friends at Sarto, I wouldn't be half as well dressed.  I love Sarto and I'm sure you will too.
Over the coming months, I will be explaining all of the alteration and tailoring options available at Sarto. 
The Italians have a philosophy of "La Bella Figura," or always look your best.  Sarto can help you achieve this, in style.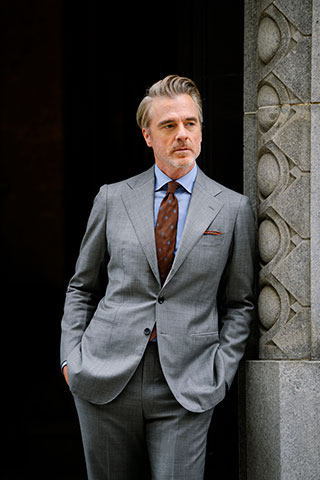 Our good friend David has worked internationally for the past 25 years as a model, stylist, photographer 's assistant and most recently as a fashion journalist.